Animal Talk Naturally
Animal Talk Naturally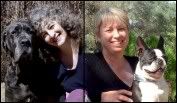 "Here is a great project in which I have had the privilege of being a part. Jeannie and Kim do a great job with some very important animal-related issues." Dr. John Symes, DVM aka Dogtor J "…I am very impressed with how much you two are doing to be out there talking about important things." Amy Snow Tall Grass Institute "I just found your podcast and I think it's Great! At times it's a bit intense but I like the passion. I'm passionate about my Aussie "Blaze!" too. Keep up the Podcasts I enjoy them on my long walks with Mr. Blaze."
Rick Hegy
Animal Talk Naturally is a live internet radio show that airs LIVE, at www.blogtalkradio/animaltalknaturally every Tuesday and Wednesday at 2:30 PM Eastern(11:30 AM Pacific). Each week, listeners tune in to hear the latest in natural animal health, learn about the true nature of animals and the human/animal bond. Guests include veterinarians, authors, experts and newsmakers. UN-learning to care for your animals naturally" is the mantra of the hosts, Veterinary Naturopaths Dr. Kim Bloomer and Dr. Jeannie Thomason. Whether you have a dog, a bird a horse or a cat, Animal Talk Naturally is the place for exciting, educational and sometimes controversial, one of a kind shows. Don't want to miss a show? You can subscribe to Animal Talk Naturally Here:
MONTHLY Subscription to Animal Talk Naturally
ANNUAL Subscription to Animal Talk Naturally
Join Us LIVE Every Tuesday and Wednesday at these times:
11:30 AM Pacific 12:30 PM Mountain 1:30 PM Central 2:30 PM Eastern
Advertise with Animal Talk Naturally!
As a sponsor of Animal Talk, Naturally!, you'll have the opportunity to run an exciting announcement targeted to our natural-minded listeners who are potential users of your product and no doubt will be once they hear about them on this show. Each ad is a permanent addition to each podcast segment of Animal Talk, Naturally!. All shows are archived and available for download to harddrives, Mp3 players, and CD discs. When you advertise your natural products, goods or services on our podcast show, it is PERMANENTLY there! We archive our shows indefinitely because we're building a library of our shows for our listeners to download and use for their natural pet care needs. We also offer our show on CDs so whatever show (s) your business is featured on, it stays there! We promote all of our sponsors and advertisers in our weekly shows, Newsletter, press materials, and on our Web site.
Click Here For More Information
All information contained in The Whole Dog is intended for educational purposes only. It is not provided in order to diagnose, prevent or treat any disease, illness or injured condition of the body or pets and the author, publisher, and contributors accept no responsibility for such use. Anyone or their pets suffering from any disease, illness or injury should consult with their physician or veterinarian